I will admit it, I am a closet Tour de France addict. I have no other interest in cycling and I don't follow the sport at any other time of the year, but something about the elaborate strategies reels me in every time. I am especially impressed by the teamwork.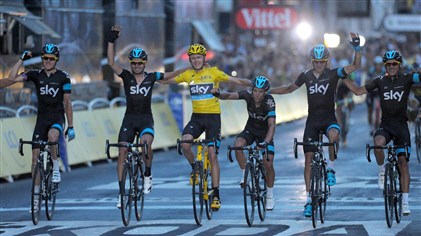 Teamwork in cycling is quite unique, because some individuals are asked to sacrifice their own aspirations for the good of a team leader. Generally the team leader is predetermined, and occasionally a rider who could do better than the leader has to play second fiddle and fall into line with team hierarchy. In cycling if you are not a team leader, or competing for one of the other winners jerseys (sprinting, mountain climbing or youngest) you are essentially a domestique.  If you are potentially good enough to win in your own right you are a super domestique. This year's winner Chris Froome, was super domestique last year for Sir Bradley Wiggins, so perhaps super domestiques know that their time will come.
The role of domestique is essentially supportive. They fetch food and drink, they provide aid in the event of a mechanical problems and most importantly they create a windbreak, so the team leader is generally protected behind, or even towed by, a domestique – as riding in the slipstream saves 20% of their energy for that last push to the line
In other team sports the whole team wins but in cycling only one man stands on the podium, representing and generally acknowledging the incredible efforts of his team.
Teamwork is the glue that brings people together in a group, so when the rewards seem so uneven – what motivates cycling teams, and how do domestiques manage to put their ego and interests aside and sacrifice their own interests for the team?
Top tips to maintain teamwork in your company by looking at the winning  Tour de France team
1. Role clarification
For any team to function effectively roles must be clearly defined. In a team competing in the Tour de France, there will be both diversity and different strengths, all of which the leader harnesses at some time or another. It is important that roles are clarified ahead of time. Problems may arise when roles need to change and evolve.  There must be some robust discussion in cycling teams where the leader's performance is below par. Diversity is also critical, not just cycling skills but different ages, physicalities and experiences make for a well-balanced team.
2. Your time will come
No matter how good you are you could not win the tour de France on your own. In cycling you have to earn your stripes and you do that by supporting teammates through thick and thin. That is what makes you an attractive team mate and will get you a ride on a better team. Most riders in the Tour de France are not there to win, but they play a part in assisting a teammate who is capable of winning and which rewards sponsors and helps the team financially. Also, just competing in such an amazing event is reward in itself, plus the incredible personal achievement of getting to Paris.
All winners of the Tour France are quick to acknowledge the fantastic efforts of their domestiques, as everyone knows life comes in cycles.
3. Trust and Respect
To build trust among team members you must first have a trusting relationship with each person on the team. Trust built through interpersonal bonds, a strong culture chemistry and responsibility. The leader must act with integrity, walk the talk and make sound decisions. True trust will mean there is consistent communication, no second-guessing and no hidden agendas. Respect is earned by rolling up your sleeves and experiencing adversity alongside team members, it is not earned by putting yourself above others.
4. A Shared Team Goal
For a rugby or cricket team, the common goal of victory is obvious, however in a cycling team, some individuals sacrifice personal recognition for the good of the group. A cycling team would fail by the first leg if each rider acted in his own best interests in mind during the Tour. For everyone to buy into a goal team needs to plan ahead, invite staff to share in future plans and be very clear about teams direction and strategy. So when personal goals align with this common goal, and when future opportunity is evident, sometimes individual participants will understand that short term pain can lead to long-term gain.
At the end of the day sports teams are much like business. Individuals work together for the success of their company. They work together to build strong teams and units. I would love to hear your thoughts on teamwork. Leave a comment below so we can share ideas.