You know who you are! We are talking to the warm blooded people with small fan heaters under their desks right now compromising OH&S regulations. The folks who leave their gloves on to type and those sun deprived souls who wear jumpers from February to October.
You better believe you feel the cold! And we hear you.
So how do you keep everyone motivated and energy levels high as the chills set in?
A team that works well together is more productive and successful, but finding the right team building exercises to suit your organisation (especially in winter) can often be a challenge in itself.
We've put together an excellent selection of team building inspiration for the colder months to help strengthen your culture and improve your employee's engagement and productivity.
Laugh a Minute – the perfect winter indoor team bonding event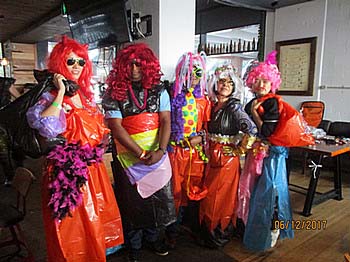 You all become the entertainment for each other with this interactive team bonding session. As your team competes in a bunch of short but sweet game show style activities they will enjoy thinking on their feet and getting creative with their antics. These games have high level participation and are fast paced and energetic. The laughs are endless!
Great for: inclusion and breaking barriers
Click here for more information on our indoor Laugh a Minute team building activity.

Murder Mystery for winter indoor team building games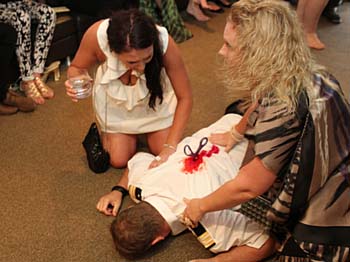 A modern day Whodunnit! Was it Stacey from HR with the industrial stapler…. or Kevin from Marketing with a sharpened letter opener? This is your chance to team up and find solutions with the evidence at hand. Professional actors integrate secretly with your team through this mystery and create a theatre like experience. Working together as detectives in small groups will showcase the best of your team's problem solving abilities.
Great for: detail orientation, problem solving and divergent thinking
View more details on our indoor Murder Mystery team building games.
Escape Rooms team building event
You and your team, locked in a room with only your wits to save you. Challenge your team's problem solving ability to move through a range of very clever puzzles and escape. Teams who survive adversity together come out stronger!!
Great for: teams who thrive on a mental challenge
View our Escape Rooms indoor team building event for more information.
Artworks to unleash your creative side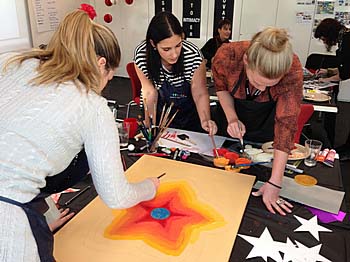 Nothing will motivate your team more than time for creativity and an endless palate of paint. No artistic experience is required and while your team build their masterpieces they will also have the chance to socialise and build bonds with their workmates. Let everyone take home their artwork or put them on display in the office.
Great for: out of the box thinking and Social interaction
View our Artworks indoor team bonding activity.
Game On team bonding activities for winter
We think of this one as Trivia on Steroids! Work together and use each other's strengths and interests with our GAME ON challenge. We keep this casual and low fuss while retaining elevated energy and creativity based activities to ensure high level team engagement.  The perfect selection of games to invite interaction in a non-confrontational environment!
Great for: team interaction and Engagement
For more information view our Game On team bonding games here.
Ten Pin Bowling a new twist on a retro team building activity
You probably remember ten pin bowling from childhood birthday parties, but these days it is a re-invented experience. High tech, with gourmet food, super cool décor, music and special effects lighting, bowling is very different these days.
However, it is still an easy fun way to hang out together. Make sure you mix up your teams and rotate the groups so more people get to play together.
Great for: budget friendly and Fun
View a Ten Pin Bowling option here.
Circus Skills Workshop – the team who juggles together stays together 
Circus is a brilliant metaphor for corporate life, not only is this super fun, you get to master juggling and impress your kids and friends forever!  We also bring out a range of fantastic equipment like spinning plates, hopes and diabolo.
This is one of our simplest and most flexible team events, all we need is a generous cleared space and a readiness to persist!
Great for: challenging your team to persist through adversity
View our fabulously fun Circus Skills workshop information here

Cook up a storm to creating a great work culture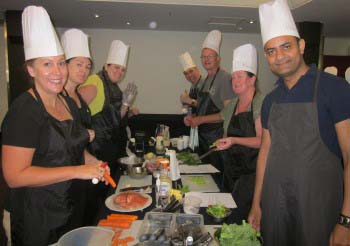 Get the secret recipe for a great work culture! Cooking classes are an excellent way to bring your team together while also learning about their individual abilities. And you can develop individual and group skills with any one of Sydney's group cooking classes. Teach your team communication skills and how to handle delicate and complex tasks under pressure.
Preparing and sharing a meal together will inspire a new appreciation for teamwork and adaptability.
Great for: delegation skills and communication – what about a super yummy Christmas in July?
Bikes for Tykes is the perfect community team bonding activity
In building bikes for kids, 'Bikes 4 Little Tykes' combines the opportunity to contribute to your local community with a challenge to your team work on skills like:
Communication
Creativity
Leadership
Teamwork
This type of encourage a positive impact on the environment and stakeholders as well as doing a team task that is enjoyable. The bikes can go to a number of charities afterwards.
Great for: using your team's time to benefit the wider community
Team in Rhythm winter team bonding challenge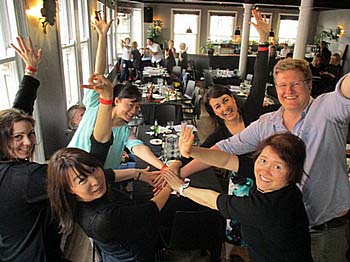 OK, time to beat away the winter blues and stress with this amazing indoor team building challenge!
Team members make all the music while guided by the facilitator to collaborate and create entrancing rhythms. An extremely memorable activity that will promote listening skills, self awareness and the endorsement of equality at your next team building experience. Led by professional musician and drum facilitator Robert Harris, this activity is an excellent way to build on your team culture.
Great for: active listening and the breakdown of barriers
For more information on what Team in Rhythm is all about.
Winter is no excuse to miss out on team bonding – in fact it can be an ideal way to motivate your team after all the hard graft. Grab your team and cosy up indoors for a well needed boost in team spirit and effectiveness. Contact Team Bonding today to help with the ideal winter or Christmas in July team event.