We all know that Sydneysiders are blessed with an abundance of spectacular beachfront, city and inland locations. The sheer number of fantastic venues and facilities as well as breath-taking scenery, naturally provide ideal locations for both indoor and outdoor activities. We at Team Bonding have cleverly co-opted some of Sydney's most iconic spots to create corporate teambonding exercises and events that are second to none.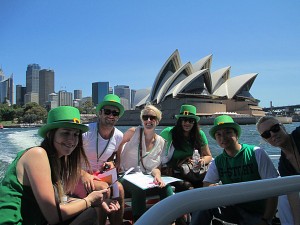 When considering planning a teambonding event, most people think of those off-site corporate strategy days where "teambonding" activities are held either in a hotel's meetings rooms or outside on a dedicated team building site. These type of team bonding activities can be successful, but can also be expensive to organise and run. It also usually turns out that, because of the location, not everyone can attend or people have to leave early to deal with work matters. How much better to plan an event for everyone that will not mean excessive travel to locations and costly hotel arrangements. Even better, plan an event that has been designed to take full advantage of Sydney's dynamic and diverse environment!
Team Bonding offer just that, with a range of innovative and exciting activities based in and around the city. The London Cab Rally challenge, for example, begins in the CBD and includes Pyrmont, The Rocks, Darling Harbour, Milsons Point and ends at Circular Quay. The Rally is essentially a scavenger hunt with related tasks and challenges, and is ideal for smaller groups of people. Along the way, participants must finish a course which takes in some of Sydney's most well-known and spectacular destinations such as Chinatown, Luna Park and the Opera House.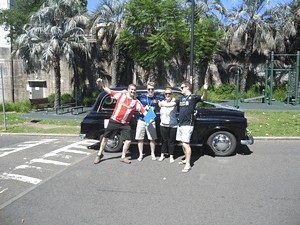 One of the company's most popular activities, the Amazing Race, has over nine courses to choose from, including the beautiful Sydney Botanic Gardens, the Rocks, Cockle Bay Wharf, Kirribilli, Manly and Parramatta. The activity is based on the television show, and involves a series of location-based challenges and fun activities. The whole activity takes 2 hours, and is an ideal teambonding experience for corporate groups, from 10 to up to 90 participants. It's almost guaranteed that once you've completed an Amazing Race you'll never see Sydney in quite the same way again!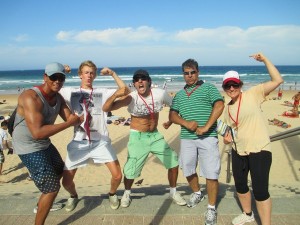 For a truly unique team bonding experience, why not consider Team Bonding's Kayaking Adventure activities. Run by one of Sydney's premium recreational paddling companies, Freedom Outdoors, the Adventures are based in and around some of Sydney's most scenic waterways such as Lake Narrabeen, the Lane Cove River, Pittwater and Manly Cove. Many people who participate are amazed to realise that the city of Sydney is surrounded by rivers and wilderness that are mostly untouched by the modern world. Small corporate groups are provided with professional one-on-one training and instruction over a 2 to 4 hour period. In order to suit a wide range of skill levels, no prior kayaking experience is necessary, and instructors tailor each course depending on fitness levels of the group. Bushwalking can also be included in the activity, as well as competitive challenges to help foster team bonding.
Other activities Team Bonding offers includes cooking classes, team and Olympic games, trivia, and circus skills. Contact us today to find out how they can make your next team bonding event a truly memorable one!