Choosing and planning a successful office Christmas party can sometimes be a challenging role.  This is because everyone usually has a different idea about what makes a great Christmas party.  In the past, depending on the size of the office or corporate group, organisers had little choice in terms of type of event they could choose – it would normally end up being a dull lunch, where you get stuck talking to the 3 people who are sitting near you and don't really get to know anyone or have any fun.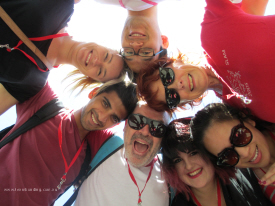 So what's the alternative?  Luckily companies such as Team Bonding have changed the face of event planning with interesting, exciting team activities that are suitable for a range of corporate requirements, and especially for Christmas parties.  Let's look at some of the practical considerations you'll have to keep in mind if it is your job to put together this year's work Christmas party.
Budget
Budget is obviously one of the major considerations for an event planner.  The type of Christmas party will definitely be shaped by the size of the available budget.  Small budgets, for example, can be easily accommodated by events such as Team Bonding's Paparazzi event (indoors or outdoors) or their famous twist on trivia  activities.  Many of the events can be organised with or without catering, and can be combined with lunch, drinks or dinner.
For those with slightly more to spend, you could consider an event such as the London  Cab Rally, which is a cross between the Amazing Race and a car rally across scenic parts of the city or you could add water taxis to our Amazing Race and get out on the magnificent Sydney harbour.
Number of people
You should have a rough idea of the number of people who be attending a Christmas party – will it, for example, be a small group of under 10 people, or a much larger, entire-office party with over 100 people?  Many of the activities offered by Team Bonding are flexible in terms of the number of people who can participate.  Their popular Amazing Race event, for example, is suitable for groups from 10 – 90 people.  Their Mini Olympics activity, which includes fully organised sports carnival, is suitable for even larger groups, whilst London Cab Rally is great for smaller teams who have done everything before.
Type of event
The range of activities offered by Team Bonding is very diverse – from physical challenges such as the Amazing Race and Best of Outdoors, to Cabaret style entertainment and Taste Food Tours.  Deciding what type of activity to arrange for a Christmas Party can be a matter of knowing your team's preferences – for example, are they interested in an active event, a creative event even attending cooking classes?
One great choice for many teams is Paparazzi, which is a short, fun event focussing around photography.  In this event people can wear their office clothes and the walking distance is short, avoiding getting hot and sweaty.  It is over quickly too, and teams can enjoy looking at their photos over some drinks.
You should also consider whether you want it to be held indoors (either onsite or at a venue) or outdoors.  As Christmas parties are held in Summer, casual outdoor events are super popular among corporate groups wishing to take advantage of the warm weather and get their team into a healthy outdoor environment.  Check out their popular events
Getting a Great Outcome
As we mentioned above, the days of everyone spending three or four hours at a Christmas lunch, only to go home early (and probably also a little worse for wear) are rapidly disappearing.  Companies now prefer to make their Christmas celebrations more meaningful.
A team event, such as the Amazing Race, a trivia night or the Artworks challenge are more than just good fun, they ensure people really mingle and get to know each other.  But the lasting benefit is that they enhance team bonding, and foster a real sense of camaraderie and achievement amongst the group.  Having a challenge to complete, or encouraging people to explore their leadership abilities, will help to keep their interest, and ensure that their end of year office Christmas party is a healthy event that will be talked about positively for months afterwards!