We've all sat through one before — that obligatory company Christmas party where everyone simply showed up at a restaurant and had a meal together, the managers gave short speeches and offered a few rehearsed jokes, and people of varying levels of inebriation had a go at karaoke, until the employees started leaving on their own or with their own small groups, one after the other, signalling the end of the party.
While we know that the intent is to bring people together to take a break from work concerns and celebrate the holidays, such a simple, ill-prepared event does little to actually cultivate better relationships among workers and promote fun and enjoyment. Left to their own devices, people are likely to just partake of the spread, sit with people they already know, and wait for a good time to slip out. Hardly anyone's idea of promoting Christmas spirit, right?
Give your Christmas party a lively boost!
The key to throwing a successful office party is to look at the event, first and foremost, as an opportunity to build ties and harmony among the employees. And the best way to do this is to get them engaged in well-structured and exciting team building activities — and not just the conventional games aimed at grouping non-acquaintances together. We're talking fun, energising, creative activities that people would actually like to try out (for example, with their own close friends or family).
Here at Team Bonding, guaranteed fun and laugh-a-minute team building activities are our forte. From groups of eight to groups of 120 people, the range of 20 brilliant events we offer will build and deepen the bond among participants, ignite friendly and spirited competition, and create experiences that they will love to look back on. Sitting around with party hats and paper plates of food is a thing of the past — with everyone up and about, engrossed in team games, group activities, or outdoor challenges, your organisation will be in for a fun Christmas party this year that everyone will be buzzing about for a long time to come.
Have we piqued your curiosity yet? To get you even more excited about the upcoming holidays, here are two of our top-rated outdoor events that will be great for your team to try:
Amazing Race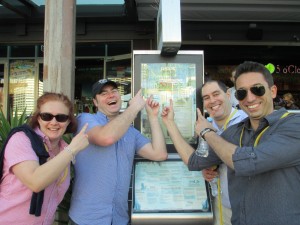 The well-known reality show is the inspiration for this scavenger hunt team activity which will bring you all around Sydney's top spots (perhaps, even on water taxis). Follow the maps, figure out answers to clues, and complete the challenges and see how you stack up against the competition.
Paparazzi
Taking photos is always enjoyable, and you'll get to do plenty of that with this activity. Work with your groupmates to find locations and snap all kinds of silly photos.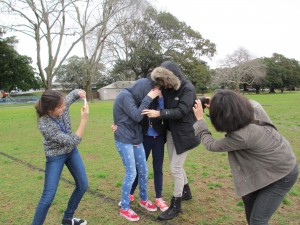 Make this year's Christmas party the most memorable yet by making arrangements for activities that people can truly bond over.