Looking for the perfect team building challenge for your team? Team Bonding's Amazing Race will tick all the boxes, with exciting activities, light physical exercise and city exploring, all wrapped up in a neat 2 to 2 and a half hour package.
In our busy working hours we rarely get a few hours off just to pause and spend time with other people in our team. Teams are particularly important "cogs in the wheel" of companies today, and their ability to work effectively and efficiently can be critical. Anything that fosters an increased sense of "team" will be beneficial, however many team bonding experiences that are currently offered try to achieve this with forced events or physical challenges that many participants find confronting. Team Bonding has almost a decade experience providing top quality team building events such as The Amazing Race that are specifically designed to develop team spirit in a fun, creative and non-confrontational manner.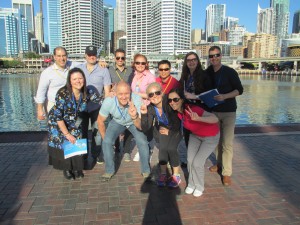 Taking its name from the television show, The Amazing Race is the ultimate treasure hunt for grown-ups. The race itself is based in and around the city centres, and is currently offered in Sydney, Melbourne and Brisbane. The locations have been picked for maximum convenience for participants: the Sydney locations, for example, are mostly in and around the city and in beach-side suburbs such as Manly and Coogee. No matter where your business is based, you'll be able to find an easy to access location for your team to compete in the Amazing Race.
By their very nature treasure hunts are fun. Team Bonding's Amazing Race combines this natural sense of fun and curiosity about searching for clues with challenges that reward teams for their ability to solve problems, manage time effectively and come up with creative solutions on the fly. At every check point along the way, teams will be provided with activities that will require different skills and knowledge. Each member of the team will be given an opportunity to demonstrate their unique strengths and abilities, making the team as a whole stronger. The activities promote communication, trust and cooperation, in a fun and light hearted way. This makes the Amazing Race an ideal activity for teams under pressure or who need to let off a little steam during busy times of the year. The Amazing Race can be run for teams as small as 12 participants or up to 120 people. This makes it ideal for small businesses or multi-national corporates.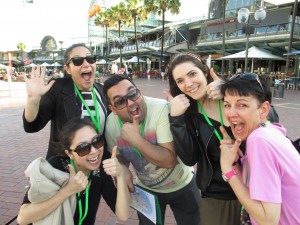 Team Bonding's highly experienced facilitators are considered to be the best in the business, and will help organise and manage your activities with professionalism, calm and a friendly attitude. Their aim is to make your event a success, one that you'll keep wanting to book in for, year after year, and the high quality feedback received from clients suggests that they hit their mark every time. So contact Team Bonding today to organise to organise your next successful team building event today!