Team Bonding Partners With The Benevolent Society For Corporate Food Tours
The Director of Team Bonding, Cate Richards, is pleased to announce their latest innovative offering for team building, Taste Food Tours ("Eat for a Good Cause"). The tours are conducted in partnership with the Benevolent Society, and run as a social enterprise, which means that the profits of the initiative will help to fund social programs. The new Taste Food Tours are to be offered in 2013, and compliment the business's existing range of popular corporate team activities and events.
"Nothing brings people together better than food", the Director of the Sydney-based Team Bonding business said on Monday. "Our whole ethos is helping corporate teams build friendship bonds and to achieve this they participate in enjoyable activities (like eating). These tours are an ideal way for corporate types to visit areas of Sydney they perhaps wouldn't have experienced by themselves, giving them an opportunity to explore our unique multicultural environment through the language of food."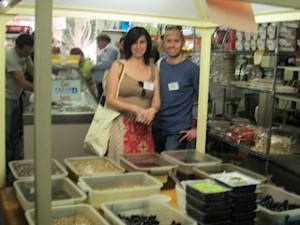 Participants in the Food Tours can choose from two different locations in Sydney, Belmore for "Global Tastes" and Strathfield for "Seoul Food Trail" . They will be guided through the sensory experience by a dedicated and enthusiastic food expert. As both locations are a short train ride from Wynyard, the tours are convenient for CBD teams, suiting groups from around 8 to 25 people. The tours are held for 2 hours, and include local food tasting and take home treats. Additionally, the profits are invested into back into worthy community projects. Managers and event coordinators will have a double win, knowing that their team building event will be enjoyable and successful, but also that their investment is going to help others in the community.
Team Bonding's success has come through its ability to provide events and activities that people genuinely enjoy and talk about for months after in the office. Gone are the days when "team building" was a dirty word that meant a few group exercises in the courtyard of a hotel during a conference. Nowadays, corporate groups can choose from activities such as cooking, playing games and creating artworks, to a Mini Olympics (always sure fire hit with the more competitive employees in the group), circus skills, photography challenges and their most popular offering, the Amazing Race. This "all rounder" is loosely based on the television show of the same name, but was cleverly adapted to offer a perfect outdoor team scavenger hunt.
One of the attributes of highly successful teams is that they truly like each other, they respect each other's abilities and will often be friends outside of work. The key, therefore, to holding a successful team building exercise is that they are designed to build genuine rapport and improve interpersonal relationships in a meaningful but fun way.
For more information on Team Bonding's Taste Food Tours, to have a food tour specially organised based on your requirements or for information on any of their other activities, please contact Cate Richards on (02) 9400 2046.