As part of our corporate Amazing Race in Sydney and Melbourne, participants are asked to undertake our charm challenge. This includes having to find a worthy recipient of a random act of kindness. I thought it would be fun for our readers to hear about a sample of the RAOK's that we've seen during the event.
10 Random Acts of Kindness
1. Allowing a heavily pregnant woman to have a 15 minute break and covering her job for her, which involved serving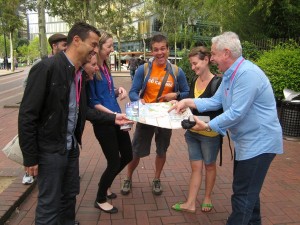 customers in the Aquarium's snack bar.
2. Buying movie tickets at the Dendy cinema for a lady who was waiting in the queue. It transpired that this lady was on her first outing after her daughter's death from breast cancer and one of the team was wearing a top that the lady's daughter also had.
3. Buying $50 worth of Guylian chocolate for a family of tourists from New Zealand. None of the children had ever eaten chocolate before.
4. Found friends for a tourist who was on her own. They went to another couple of tables in the pub, introduced them all, got them to sit together and bought them drinks
5. Serenaded an attractive female executive with "you've lost that loving feeling", which had half of Circular Quay joining in (then reperformed it for the group during our winners presentation)
6. A lovely man from Bankstown council piggybacked a tourist who walked with a cane up the Opera House steps and back down so he could see the sails close up. Despite the time this exercise took, this team still managed to beat 9 teams and win their Amazing Race
7. One team went into a restaurant kitchen and washed a sinkful of pots and pans for a kitchenhand
8. A team from Dell donated $50 to St. Matthews church in Manly
9. Bought a lovely bunch of flowers for a senior lady and helped her across the road to her apartment with her shopping.
10. Team spruiked for customers for the Botanic Garden train, this particular team were so enthusiastic the driver filled her train and got a bonus – for months she asked me if I could gently suggest other teams helped in the same way.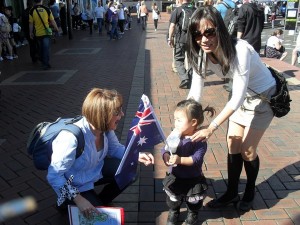 Needless to say it is quite a difficult task to judge the random act of kindness activity as we have to evaluate the degree of kindness. We love stories of creative kindness like finding friends for a tourist alone and spending generously also gets a good score. On other occasions, such as the movie ticket story above, everyone involved has had to wipe tears from their eyes.
Many, many participants on the Amazing Race love this challenge, we always get comments on how profound it is to do something spontaneously nice for people. We like to think that there are tourists all over the world who remember a kindness and that our event spreads joy and connection from Sydney, Melbourne and beyond. Finding a target for a kind act is team building at its finest.