You've been given the job of choosing a fun teambuilding event and you want to choose something that everyone will enjoy. All the events sound really good but how do you know do you know if your teambuilding event manager would deliver a great event?  Here are the key questions you need to consider before choosing a team building company.
Will the activity be genuinely enjoyable for your team?
Truly great activities have been tested with diverse groups and continually improved over a long period of time.  Great event managers know how to tweak and customise their events to suit any kind of team, large or small, young or old, fast or slow and different levels of physical ability.  Like a popular stage show, a great team event will be enjoyed by 90% of people, because it has been tweaked and improved until it runs as predictably as a theatre performance in the extended season.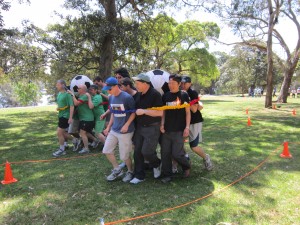 Do these event managers genuinely know their stuff?
It is a truism to say that you pay experts to handle situations which are unlikely to arise. Whilst many people could probably take over the controls of the plane and fly for a while through perfect conditions, that same person would probably be hopeless in an emergency situation and would immediately wish to hand the controls to an experienced person who had managed every difficult situation imaginable in the past.
Likewise, you are not paying a great event manager just for the perfect event they will run for you, but also for the many imperfect events they ran when they were starting out.  This is what covers you if anything goes wrong, genuine experience gained through repetition.  And in the world of events just about anything can go wrong, so quality event managers have multiple contingencies and backup plans ready for any scenario. They have handled all kinds of situations and can steer your group easily out of trouble and back on to safe ground.
Experience includes the number of years in business,  the volume of events the business manages and whether it is a successful and well-managed business. Unless  your team building supplier manages at least 200 events a year they are a low-volume player and potentially not experienced enough to get your group out of trouble should you encounter any.
How do these teambuilding event managers staff their events?
Some teambuilding event managing companies cut corners by not employing enough staff to manage a group effectively or allow for the inclusion of interesting, engaging activities that people will enjoy. For example poor quality city race style events just involve running around with a list of questions led by a single host who is involved only at the beginning and end.  A better quality teambuilding event will have fully staffed checkpoints and staff backup.   These staff will be trained in facilitation skills, allowing the teambuilding company to use equipment and oversee complex, engaging activities that significantly enhance the experiential side of the activity for the team.
What kind of feedback does the company get?
Can this company provide personal references, written testimonials, recommendations and plenty of supporting evidence (for example videos and photos) that suggest their events are as good as they say they are for a group like yours. Can they provide an internal reference to someone within your company who has done a similar event? If you work for a larger corporate, chances are good that a team should have worked with this teambuilding company before.  Certainly at Team Bonding we work with nearly all the top 30 Australian corporations in any given year.
Are they transparent about their pricing?
As the manager of a very successful and profitable teambuilding company, we know there are operators in the teambuilding industry charging huge margins which are not justifiable.  As very few put their prices on their websites, there is a lack of transparency in our industry.  They want you to enquire and tell them your budget to assess your price tolerance.   Good operators will have a suite of successful event products, that can be delivered for a known cost and there is simply no reason to charge over the top fees to tailor events.  Our advice is to choose a tried and tested activity, which has been enjoyed by many other teams, then if needed you can make tweaks and customisations to suit your location, timing and group size or add on bells and whistles.
Does the company have a set of safety practices and policies?
There is nothing more critical in team building than the physical and psychological safety of participants in team building, quality operators will have a set of policy and procedures plus hefty level of public liability insurance.
Here are some more questions you may want to ask
How knowledgeable about specific events is the person that answers the phone? Can they provide an excellent quality of advice about works for your team and suggest events to suit your needs and budget? How flexible are they with respect to your specific requirements? Can they adapt the event to cater to anyone in your group who has special needs for e.g. pregnant staff members, staff members recovering from a knee reconstruction, people with special dietary requirements etc.  Can they cater to a smaller budget or a shorter time period?
In short by considering these questions you can determine whether the company you have chosen  are great operators, opportunists or a fly by night pretenders.  Please go with a great operator, you will be so glad that you did.
By Cate Richards Director of Team Bonding, Australia's leading supplier of fun team events