When people graduate from university and enter the workforce, they think that they will leave cliques behind. The reality, however, is that like-minded individuals inevitably band together and spend time with one another. Not to say that cliques are altogether bad, but as a manager, your end goal is to have your team work efficiently and effectively together, regardless of personality.
Corporate events are held both to reward employees for their hard work and stellar performance as well as to foster teamwork in the workplace. But unless well managed, individuals continue to drift to their own little cliques, trading stories over glasses of wine.
There's nothing completely black and white about cliques in the workplace. On one hand, when one worker joins a group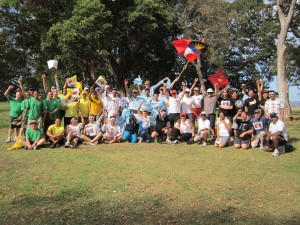 of achievers, their positivity and winning attitude can rub off on him or her. One member of the clique might also act as a mentor for the new team member and give valuable lessons in the process.
On the other hand, cliques promote the idea of exclusivity. This can be problematic especially when you have multiple teams working on a single project. Then, there's also the tendency to spread gossip.
As a manager, you would want all the teams you handle to work seamlessly together to achieve a common goal, to foster the spirit of community and inclusiveness instead of individuality and exclusivity. The perfect way to achieve this is by holding a teambuilding activity as your next corporate event. Team members who would simply give one another a casual nod as they meet along the hallway are given an opportunity to get to know each other better while working to solve the challenges they are presented with. Team spirit is fostered by going through the same experience and completing an activity which needs every member of the team's participation in order to succeed.
Why settle for boring mixers when you can get your team out of their cubicles and stimulate their minds and bodies as they bond with one another? The great thing about teambuilding events is the array of choices you can opt for depending on your goals and your team members' inclinations.
One of the most popular types of teambuilding events is the Amazing Race wherein team members are engaged in a variety of physical and mental activities which that engage their creativity. If your team wants something that is physically engaging, you can opt for Mini Olympics. Participants vie for gold medals in familiar events which have been given a twist.
Nothing beats bonding over good food except enjoying a meal prepared by your team. With an event ala-Master Chef, participants are given the opportunity to bond and learn culinary skills. Think your office is a circus? A Circus Skills Workshop may be the right teambuilding activity for you. Here, participants loosen up while learning a variety of circus tricks like juggling and spinning a plate.
Whichever activity you choose for your company, teambuilding events can infuse your workplace with vitality and help break down barriers between colleagues, by allowing them to bond over a shared experience.