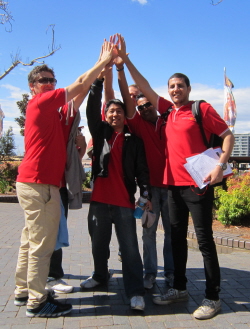 Planning a team building corporate event is sometimes not an easy task. Besides finding a time that suits everyone in the company, event planners will also have to take into consideration other factors, such as the type and purpose of the event plus catering or other provisions. For those who are planning team building corporate events, listed below are five questions that can help you choose the right activity for the company:
1)      How many people are attending? This is perhaps one of the most important questions that must be asked since your choice in activities will often be limited by the number of participants. Some events, such as amazing race-style contests and mini-Olympics events, work best with a large number of participants whilst other events, such as car rallies, painting and cooking classes, work superbly for small groups.
2)      How much is your budget for the event? Budget is also an important factor in your activity choices. Some events require larger budgets as these must be used for props and other game equipment. For instance, a car rally may involves hiring classic cars while a cooking competition requires suppliers to pay chef coaches, purchase fresh ingredients, hire cooking equipment and a venue to become  a temporary kitchen. Other events, such as trivia and indoor team games, on the other hand, do not require as much investment
3)      How much time do you have available for the event? Time can also limit your choices because some activities require more time than others. An amazing race-style team building event, for instance, will likely take a whole afternoon, while holding simple table games indoors will just take a couple of hours.
4)      Would you prefer an active event outdoors or one that is less physical and held indoors? For company employees who are tired of the four walls of their cubicles, sports events outdoors is a great way to spend time away from work. It's also important to note that sports-themed team building activities, such as picnic partner and mini-Olympic games are more appropriately held outdoors, since indoor areas may not have enough space. For those who prefer to stay indoors (or don't want to worry about unpredictable weather), lively activities that do not require too much physical effort, such as circus, art and drumming sessions, can be safely held within the confines of the office.
5)      Do you simply want a fun way to spend time with co-workers or would you also like to learn new skills? Workshops, such as circus, art and cooking classes, encourage friendship and self-development through learning; however, some employees may find these events stressful because they might be uncomfortable demonstrating a certain skill, particularly in an area where they think they are lacking.  For companies that simply want their workers to be rewarded with a fun event, outdoor events like the Amazing Race or Paparazzi in their area are great choices.