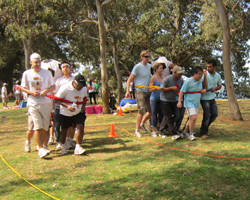 Sports-themed team building activities are a great way to encourage friendly competition among employees in a company. In addition to this, sports competitions also help pave the way to forging better relationships with co-workers by boosting communication among colleagues and helping them find ways to overcome differences with each other. Lastly, competitions provide an invigorating way to break the monotony of office work while keeping employees fit and healthy at the same time.
However, planning a sports-themed corporate event can be overwhelming and exhausting. To help companies successfully host a mini Olympics event, here are five simple tips from expert corporate event planners:
1)      Keep it short. Sports competitions as a team building event should be focused on being fun and enjoyable; these should not serve as a test for employees' stamina and endurance. Hosting the whole event for only a short duration (two to three hours is considered optimal) allows players to enjoy team building without feeling spent and exhausted at the end. In addition, keeping sports competitions short allows for more bonding time at the end — which is actually the point in hosting these events.
2)      Choose activities that suit all fitness levels. In a company, there may be hundreds of employees, and each one has a different strength or fitness level. Team building is all about camaraderie and fun, and as such, it's best to choose activities that anyone can participate in, regardless of fitness level. Activities that are too gruelling may alienate less fit members of the group and make the games less enjoyable than they should be.
 3)      Stay safe. A priority for sports-themed competitions is safety. No matter how simple or easy the games are, it's best to ensure that there are medical professionals or clinics and hospitals nearby in case someone gets injured. In addition, event planners should also check the venues and equipment to be used beforehand to make sure that there are no safety hazards present.
 4)      Prepare for the unexpected. In addition to injuries, there are still other unexpected happenings that can compromise a team-building event, such as running out of bottled water, weather changes or crowding at the venue. Always make sure that there are provisions for such instances or that there is a nearby store where you can buy water in case you run out.
 5)      Allot some time afterwards for players to cool down and bond: What happens during sports competitions certainly helps build camaraderie among workers; however, the conversations that happen afterwards are more important at facilitating team bonding. Rehashing the day's events over drinks and some food is a great way to end a corporate event — and start a new and stronger relationship with fellow workers.