Some of the most exciting elements of Team Bonding's Amazing Race events are the completely spontaneous and unplanned things that happen along the way. The beauty of the Amazing Race is that participants' natural imagination, curiosity and inventiveness is encouraged and celebrated. Rather than sticking to a rigid schedule with certain outcomes like many similar team building events, the Amazing Race challenges allow participants to explore their fun and creative side, all within a light hearted competitive environment. No approach to solving a problem or a challenge is considered "wrong". As a result, participants often surprise themselves with the truly creative and fun situations they can find themselves in.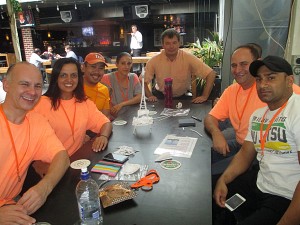 The nature and design of the Amazing Race activities mean that no two challenges will be the same. The challenges are held in and around capital cities, in areas where there are lots of other people as well as inspiring landscapes and architecture. In contrast, many team building activities are often held in isolated or rural environments, making the activities and outcomes similar each time. For the Amazing Race, some of the best experiences have come simply from involving unsuspecting bystanders or pedestrians in the activities to "help out". For example, the police, in previous challenges, have been happy to lend a hand when needed in role play (to pretend to arrest participants on camera). This kind of activity is unplanned and makes for an amazing, unusual and thoroughly memorable challenge. Other such experiences include flash mobs (always a hit in the city when office workers are eating lunch), offering unsuspecting backpackers jobs, dressing up in unusual costumes and dodging the dinky trains in Darling Harbour, much to the enjoyment of everyone involved.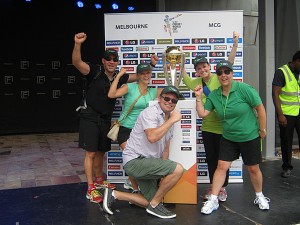 The photos from the Amazing Race (which are given to participants once the event is completed) completely capture the spirit of the challenge, and clients tell us that they are often handed around at meetings for months after, shared on the company's intranet or Facebook or printed out and pinned up proudly on a bulletin board for everyone to enjoy. One client wrote "We are still reeling from the fun of last week and the spirit continues at work as we speak. We even have a competition for the best caption for the photos."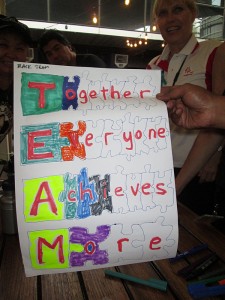 Client feedback also suggests that these unplanned and completely spontaneous activities are talked about fondly by participants for many months and even years after the event. Through these shared experiences, participants also agree that the activities serve to deepen friendships between work colleagues and ignite real team spirit (rather than the "rah rah" forced team bonding that other similar events try to encourage). The Amazing Race's organisers also ensure that clients only participate in activities within their comfort level and that they needs of the group are considered. That way no one feels as though they are being "pushed" into something they'd rather not do or have trouble completing on time.
If you think you and your colleagues would enjoy a truly engaging, fun and light hearted activity with a competitive edge, contact Team Bonding today to find out more.