Sydney – Australia
Corporate Teams Can Now Experience The Sydney Amazing Race In The Eastern Suburbs
Team Bonding is proud to announce that their extremely popular team building activity, Sydney Amazing Race, is now available at Coogee Beach. The Amazing Race in Sydney has become a favourite activity for corporate groups who want to experience an outdoor team event that is professionally organised, encourages teamwork and is above all, fun for all employees. The Director of Team Bonding and Sydney Amazing Race, Cate Richards, says that adding Coogee Beach to the company's list of locations for the Amazing Race was an obvious choice, given the Beach's famous beauty and convenience for anyone with an office in the eastern or southern suburbs of Sydney.
Cate says,
"Our team building activities and events are designed to suit corporate groups all over Sydney, but we have to say our latest Amazing Race course at Coogee Beach is a brilliant choice, particularly for those in conference at the Crowne Plaza Coogee. While our 7 other courses such as Sydney Botanic Gardens, The Rocks and Cockle Bay, are wonderful, everyone who takes part in the event agrees that Coogee Beach is a spectacular coastal location. Corporate teams will still be talking about their experiences months after the event is over."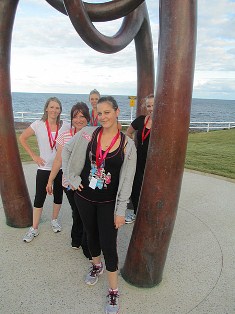 Sydney Amazing Race is essentially a "scavenger hunt", adapted from the television show, the Amazing Race for the corporate market and small groups. The fully-managed activities include both mental and physical challenges, and run for no more than 2 hours. While the events are designed to be fun and rewarding, the focus is building high quality relationships in the workplace and among corporate leaders. Companies such as Google are known for their innovative working practices and are always high on the list of the best places to work, and team building activities have become more popular among the more "traditional" companies as they strive to build creative, energised working environments for their employees. It has been shown that activities that get groups working together, facing challenges and thinking in different ways can help foster a sense of achievement that staff may otherwise feel is lacking in the workplace. Another important benefit of a team building exercise such as the Sydney Amazing Race is that it is designed to get corporate managers and leaders in the business to work alongside their staff, which has huge benefits in our egalitarian Australian culture.
The new Coogee Beach location offers participants an opportunity to enjoy the scenery on the foreshore walk in an area of outstanding natural beauty. The course also includes the poignant Bali Memorials created for the Sydney victims of the Bali Bombings. The costs for the event are based on full facilitation by Team Bonding, as well as all planning, equipment and staff.
For more information on Team Bonding's Sydney Amazing Race, the new Coogee Beach route, or for information on any of their other courses (including 4 city courses, Kirribilli, Parramatta and Manly), please contact Cate Richards on (02) 9400 2046 or email director@sydneyamazingrace.com.au. See website; www.sydneyamazingrace.com.au